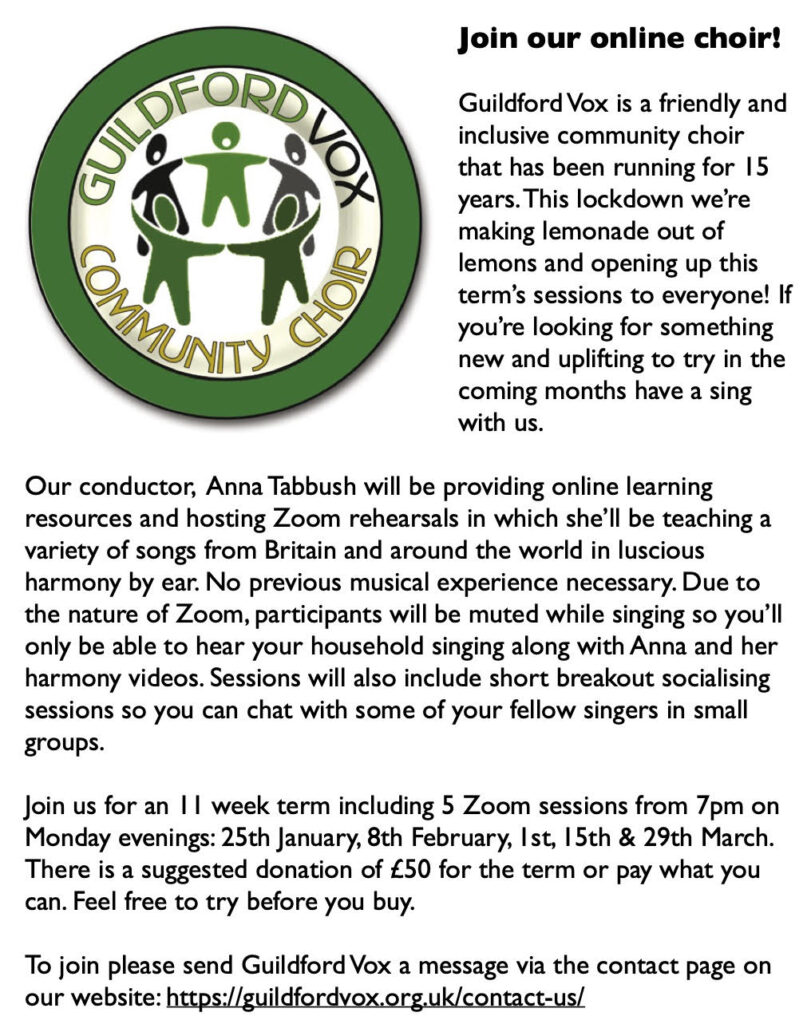 ***********************************************************************************************
GUILDFORD VOX HAS BEEN CANCELLED FACE-TO-FACE UNTIL FURTHER NOTICE,
DUE TO THE GOVT. ADVICE ON COVID-19.
16 March 2020
However, our choir-mistress, Anna, has an outline plan for the Spring and Summer terms, 2021. Please see the 'Gigs/Calendar' tab for details of Learning Videos, and 'Zoom' sessions.
***********************************************************************************************
Welcome to Guildford Vox
Guildford Vox is a friendly and popular community choir. We meet on Monday evenings at the Trinity Centre, next to Holy Trinity Church, Guildford High Street.
Our repertoire consists of contemporary and traditional songs from the British Isles and around the world. We learn by call and response and sing rich, unaccompanied harmonies. We have a sizeable and enthusiastic membership and new members are always welcome. There are no auditions and you don't need to be able to read music.
Singing in a choir is an uplifting experience and you meet new people. It's good for your health and boosts your confidence. Each year is more exciting than the previous one, so why not come and share the glorious, harmonious sound of Guildford Vox.
You are welcome to come and find out what it's all about – your first session is free! Thereafter you can book a term or half term in advance at £5 a session.
Choir sessions run from 7pm to 9pm and include a refreshment break. For term dates see our calendar
***********************************
 Extracts From Review of Charlie Dore concert – June 2019:
Guildford Vox performed a short opening set which showcased their lovely voices. They may be an amateur choir but came across as very professional and well rehearsed.
Part way through the second set, Guildford Vox joined the trio and supplied some glorious harmonies. Pilot Of The Airwaves absolutely spinetingling with the choir.
*****************************************