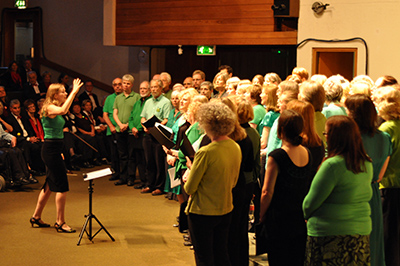 We are proud to be part of our local community and perform around and about several times each year. We are not a church choir, although we do rehearse in a beautiful and historic church due to numbers. Highlights over the last ten years have included Guilfest, Christmas lights switch-on in Guildford High Street, celebrating dawn on May Day at St Martha's, carol concerts, pub singing and even the occasional flash mob! Further afield we took our choir on tour to Frieburg, Guildford's twin town in Germany and also to Scotland. In the recent past our gig venues have also included Normandy Therapy Garden, Electric Theatre, Loseley Park, Shalford Mill, Polesden Lacey and Brighton.
We are always looking for new and interesting opportunities to perform and love to raise money for our chosen charities. Guildford Vox is affiliated to Community Vox, which aims to bring community arts to the people of Surrey and the South East through performance and education.
***************************************************************************************************
FREE TASTER SESSION –
(Monday 18 September 2023)
St Mary's Church, Quarry Lane, Guildford
Ever thought of singing in a community choir, but never dared? Come to our free taster evenings and give it a try. There are no auditions and you don't need to be able to read music.
Anyone is welcome for a taster session any week for free. Thereafter, it's £5 per session if paid either termly or half-termly, £7 if paid weekly.
***********************************************************************************************